Sweet Dreams at Pinedale Inn
Pinedale, located on picturesque Gull Lake and surrounded by stately pine trees, offers accommodation and convenience to suit every taste.
Bright, spacious accommodation raging in occupancy from two persons to families of all sizes. Each unit, suite or bungalow carefully outfitted with all the necessities for housekeeping. Each unit with a picture window and private balcony to enjoy the scenic view regardless of season, pale greens of early spring, activities on the lake in summer, autumn's blaze of colour in the fall, and winter's wonderland with view of groomed snowmobile trail.
Gull Lake is of sufficient size to enable guests to enjoy all water sports, boating, wading, swimming and fishing. The beaches are sand and slope gently out making it safe for all ages. Docks are provided for the more proficient swimmer that enjoys deep water. Lawn borders the shore line. Sand boxes and swings are provided for small children.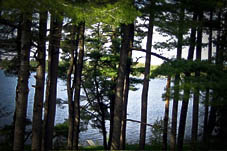 A Warm Welcome Awaits You In The Heart Of Muskoka, The Best Introduction To One Of The Most Beautiful Parts Of Gull Lake
Pinedale Inn since 1910
The old Pinedale Inn has been operated since 1910. This traditional property delivered total water experiences as a resort. The vintage divided back postcard features the Pinedale Inn at Gravenhurst, Ontario, Canada - the gateway to the Muskoka Lakes area of the Cottage Country.
Heated Outdoor Pool
Free Wireless Internet Service
BBQ Picnic Area
Kids Playground
Snowmobile trail